---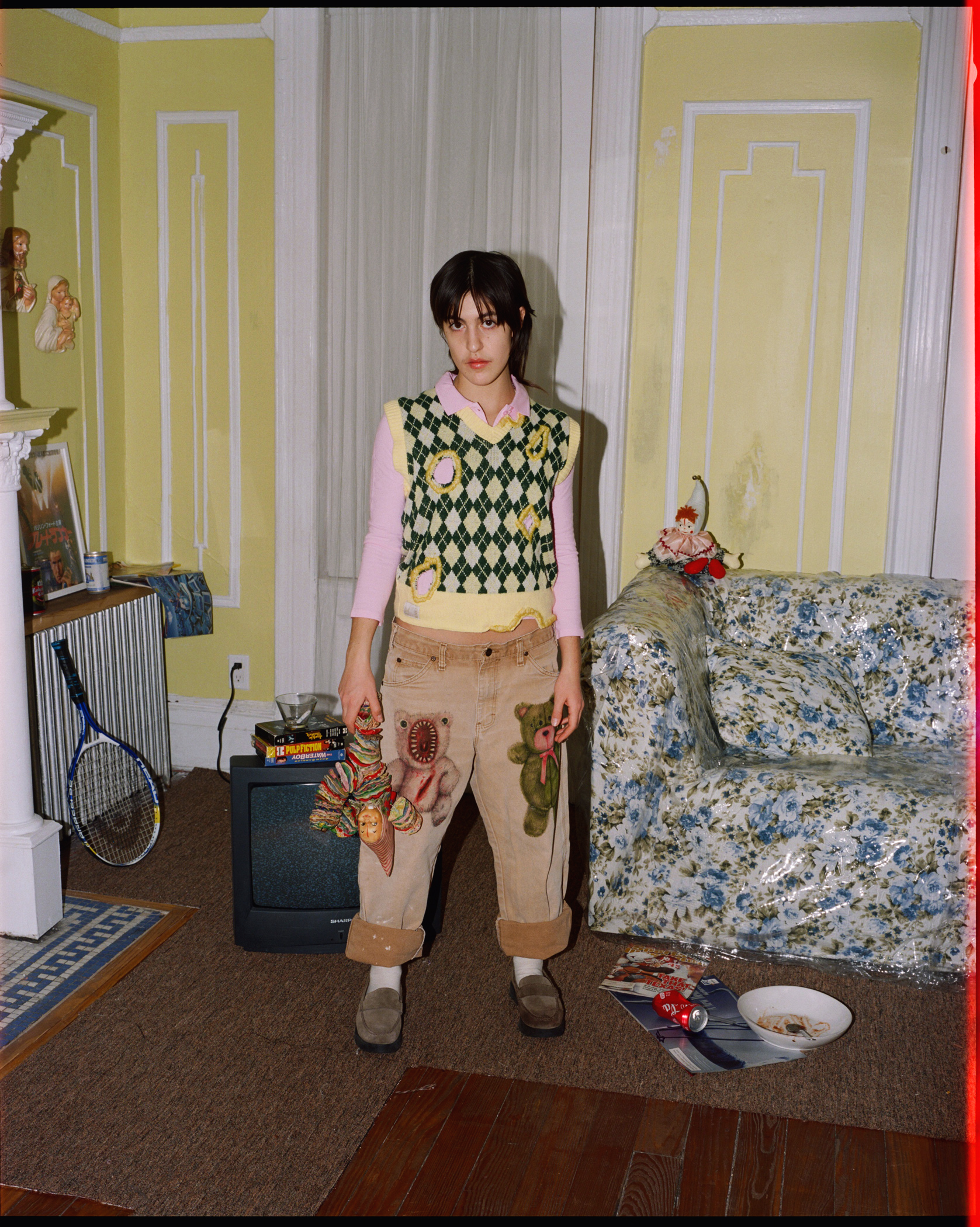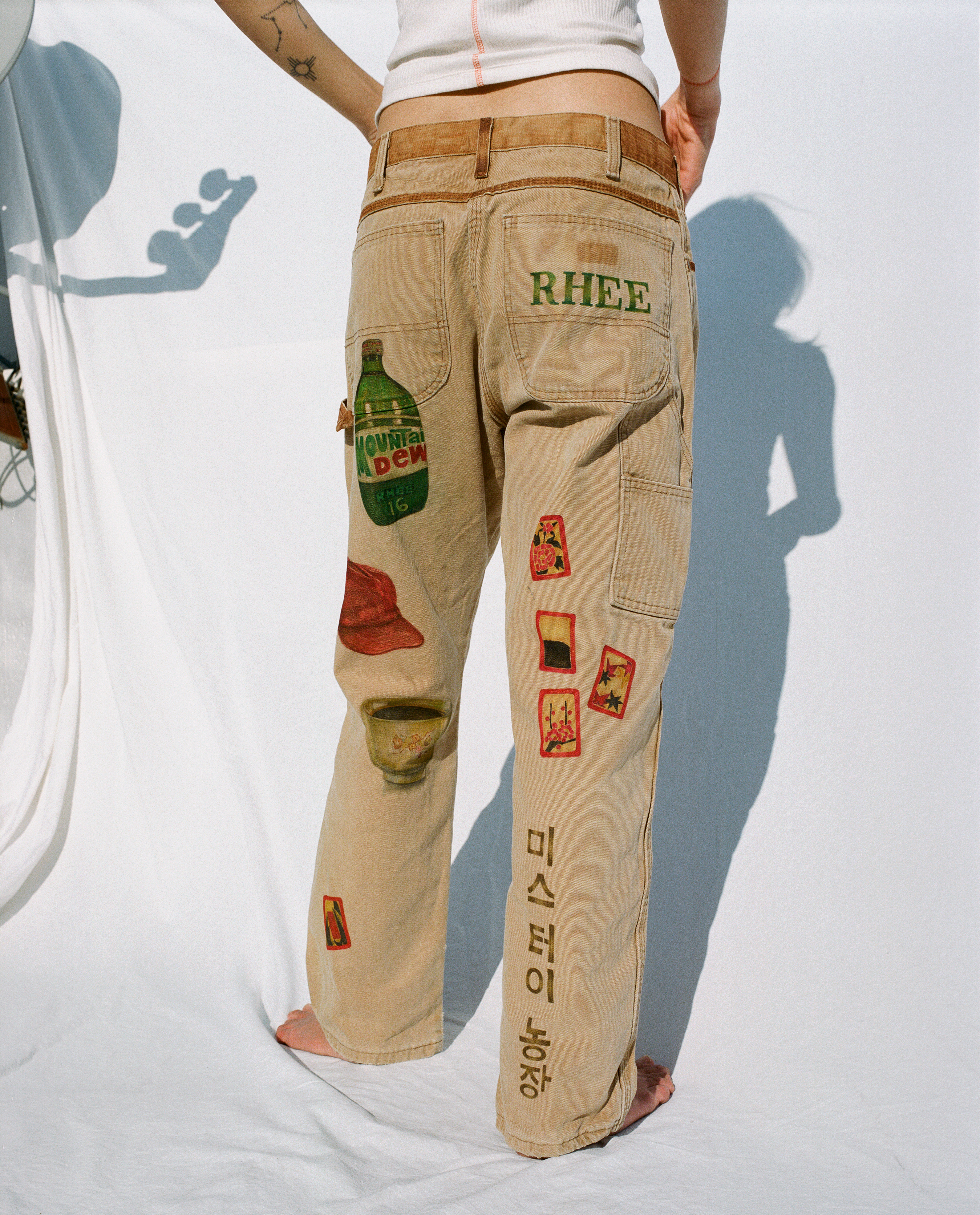 Rhee Studio: The brand that saw designer Cherry Kim take domestic leisure's to the fashion world

By
Aisha Hassan
on 6 May, 2022
---

New York based artist and designer, Cherry Kim, conglomerated her interests for illustration, furniture, and the desire to remain purposeful to create the innovative brand, Rhee Studio. Named after Cherry's mother, Rhee Studio looks to incorporate elements of Cherry's childhood, coupled with her current passions for different artistic mediums. Having worked with the likes of Amiri Jeans and A24, Rhee Studio has quickly caught the attention of many who are looking to don a quirky custom design.

New Zealand born and raised designer, released her latest collection Mothballs in 2021, garnering great attention around the inspiration behind her knit designs. When we had the chance to speak to Cherry about Rhee Studio, we were engrossed in her fascination for domestic spaces and reflected on her creative process as being more fluid, in an attempt to remain authentic and true to self. As Rhee Studio is simply the work of Cherry Kim and Cherry Kim alone, conversation naturally progressed into how the designer chooses to partake in slow fashion practice. When we explored notions of sustainability and ethical customs, it was refreshing to listen to Cherry speak in practical terms and how the realities of claiming sustainability in fashion is often more complex that one might perceive.

Nonetheless, the work of Rhee Studio truly excites us and continues to reinforce the idea of purposeful, intentional wear that is so important for halting the fast-paced, fleeting attributes that riddle the fashion industry.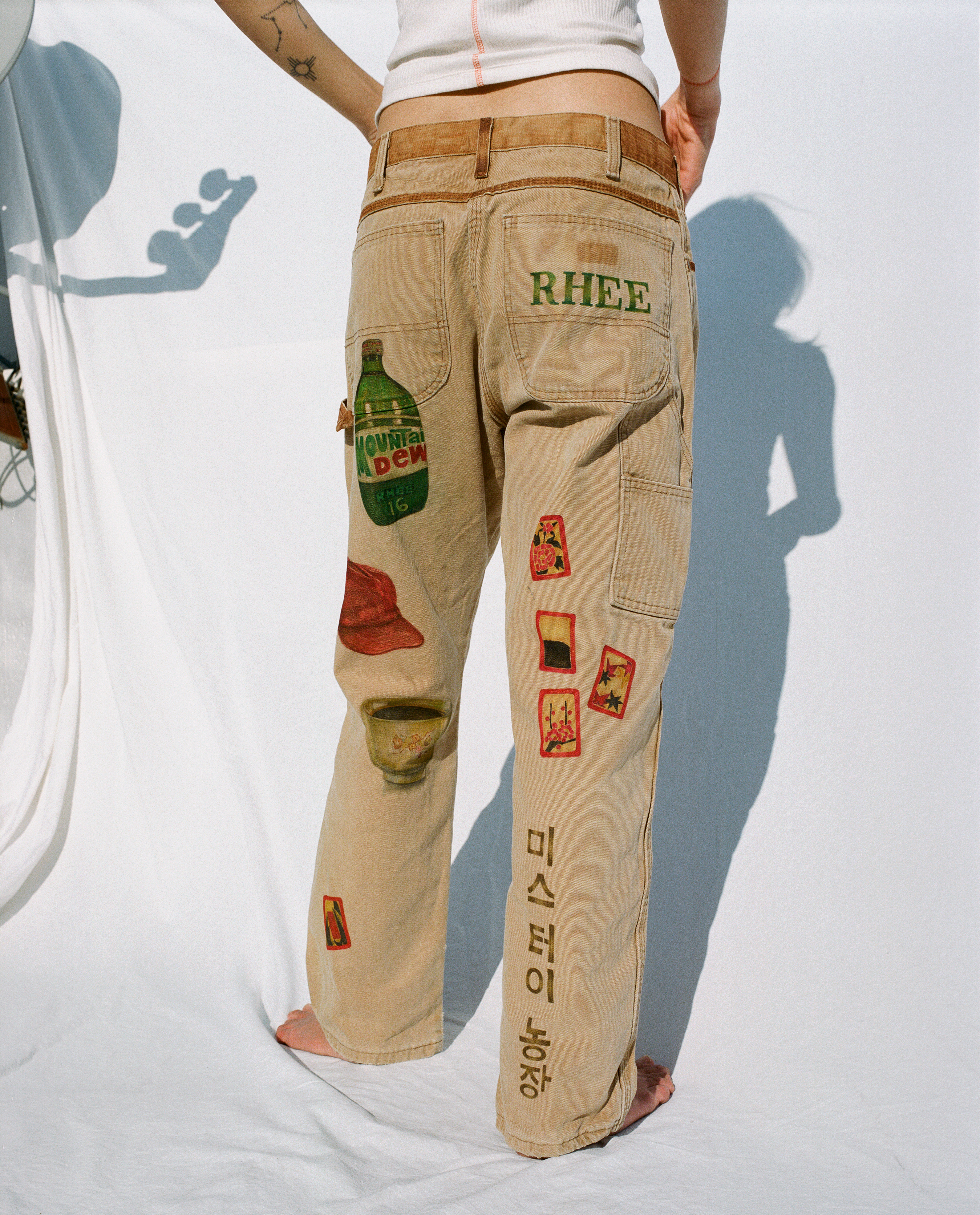 As the designer and founder, tell us more about how you birthed the concept of Rhee Studio?

When Covid first hit I was employed as a freelance designer for a womenswear brand based in New York. But with the city wide shutdown, we halted all development on future collections. I had a lot more time on my hands, and with the restrictions in place I was deeply frustrated and bored at home. Since moving to New York in 2018, I hadn't been able to catch a break so it was the perfect time to delve back into illustration - a hobby I've consistently fostered since childhood. However, it was the first time I tried fabric markers as a medium and so I chipped away at a pair of old workwear pants I had lying around at home.

With the increased amount of time spent at home, I had a newfound interest in homewares and furniture and naturally I decided to illustrate famous mid-century chairs by designers like Eames, Ducaroy and Gehry. Once I started to share process photos online, I was surprised by the influx of commission requests which I leaned into. It was the ideal outcome with the state of the world and really helped me out financially at the time. It's now been two years and I've moved away from the chair theme, and into others that feel personal to my upbringing and interests.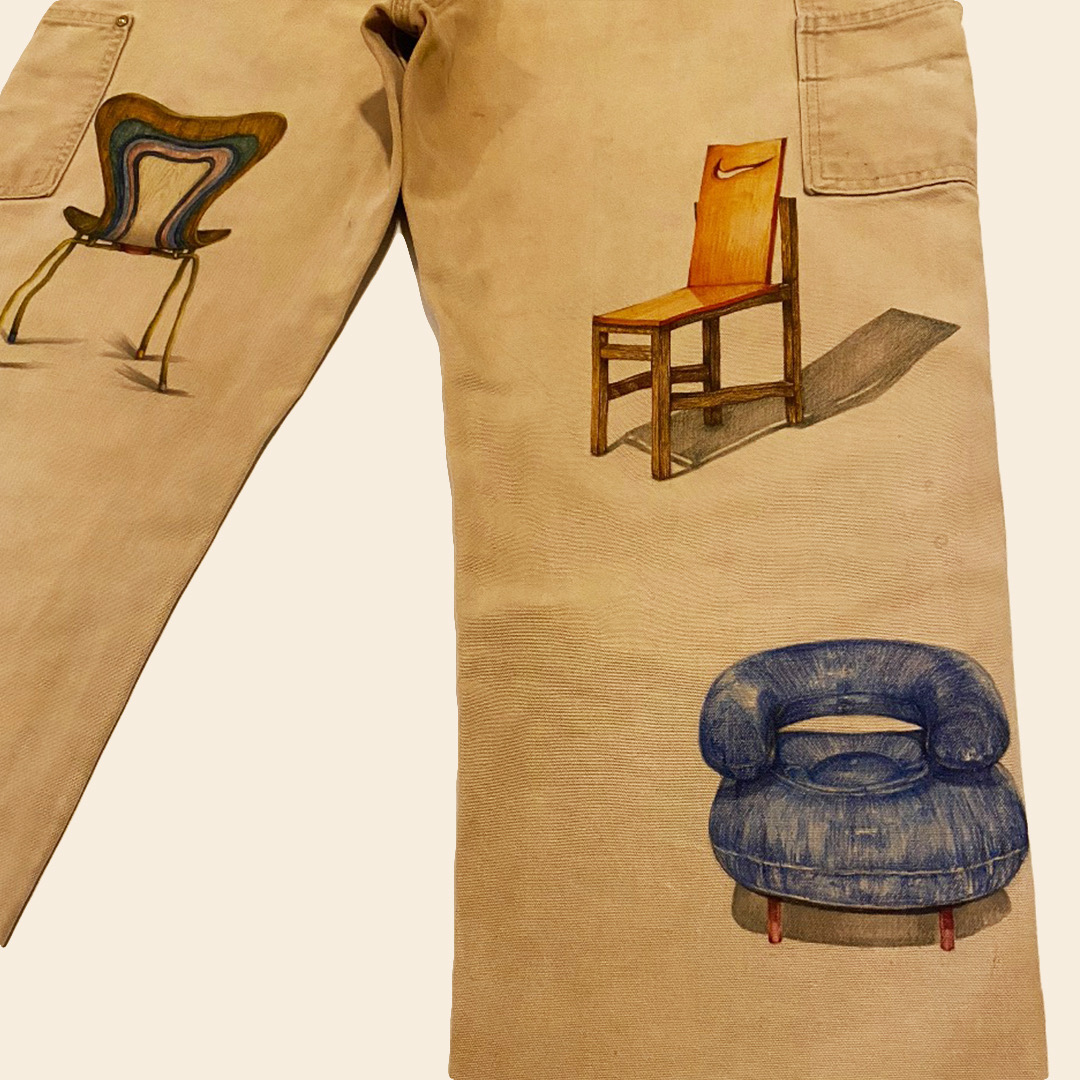 Many of your early illustrations centralize around designing furniture objects and you mention on your website that it stemmed from a fascination for domestic leisure and spaces. Where did this fascination emanate from and what about it sparked your curiosity the most?

When I moved to New York, it was the first time moving out of my family home and the first opportunity I had to furnish my own space in its entirety. At the time, I was super broke, and my room was really only for sleeping. It wasn't a 'sanctuary' and decorating it wasn't a priority for me. During the pandemic, I really came to view my home in a different way and wanted to buy into long-term investment pieces. The value I placed on my personal space really grew. I always viewed mid-century or designer furniture as a concept so far from my own world and during this time, I really became fascinated with the idea of furniture as functional art that you coexist with.
Yeah, definitely – that desire just flowed into what you were designing and illustrating throughout your work. I'm also particularly interested in your Mothball collection. How were you inspired to create those pieces?

Naturally, after completing many chair-themed commissions, I wanted to work on a new collection that explored a different theme. I delved into my childhood - my home was always in a state of chaos. My mother really valued creativity - she was super into arts and craft and was a collector (or hoarder of sorts). I grew up going to yard sales every weekend and our house was filled with random ornaments and eclectic home goods - some that didn't even function / had any use to be honest. My mother also kept every article of clothing from her 20s so our house was stacked with boxes and garment bags, and I very clearly remember the smell of mothballs in her room.


Maintaining a sustainable undertone in the Mothballs collection and the desire to veer away from woven fabrics was the initial, loose direction. I remembered an old embroidery technique I explored in college for a textiles project - I embroidered large holes into fabric and cut away the fabric in the inside of the hole to create a deconstructed/ disheveled look. It was a way to rework, add dimension and texture to existing knit pieces.


That's amazing, it's nice to see how you've chosen to embrace that sense of repurposing. So, you've mentioned the impact of your mom on the brand and if I remember correctly, she is also the namesake of the brand?

Mmhmm, yep it's her last name!
Yeah, cool – so aside from your family where else do you draw inspiration from for your designs?

I remember doing projects in high school and college and trying to emulate other designers or artists I was into at the time. Looking back, I personally think it needed to happen - a process of trial and error because none of the things I produced back then felt authentic to me. I really felt that I didn't have much to pull from my personal upbringing or interests but now I've gotten to a place where I'm inspired by these very things.

The last Mothball collection looked at moments from my past and my childhood - my mother loved horror movies and was a collector or hoarder of sorts. My sister and I lived in a constant state of chaos/ "maximalism" which is now deeply inspiring to me. I tried to carry this chaos into the collection - in both the garments and campaign imagery which I think I achieved. There is a sense of familiarity in it all.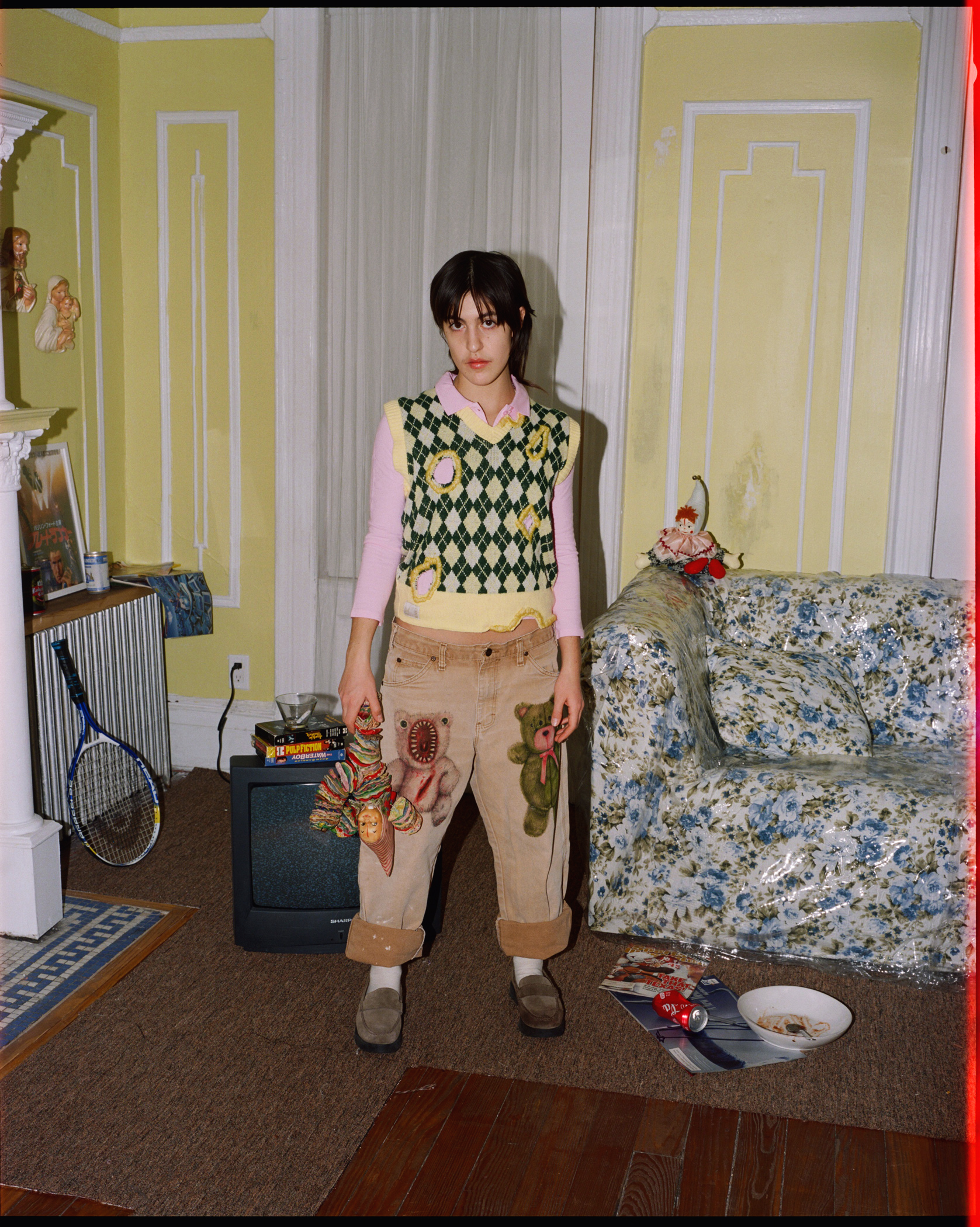 I actually had a question that somewhat relates to that. Mainly because I know the more innovative elements of Rhee Studio work in cohesion with notions of slow fashion and recognizes the benefits of intentional custom designs. In a world of rapid and fast consumption, what do you do to make sure that your work stays true to your ethos?

I think the guilt of being a part of the rapid consumer-focused industry and the short shelf life of garments in my past roles within fashion informs how I work now. I think the thing about ethos is that it should be fluid depending on your current priorities, as well as limitations - finances, materials or resources and contacts available etc. Obviously, I want a sustainable undertone to be consistent in what I produce but I think that can also be present in varying ways - whether that is reworking, producing small runs, doing pre-order etc.




Yeah, there are so many variables that come with being sustainable and I guess sustainability has different measures, different perceptions attached to it. So, that's really great to hear the practical considerations behind it and I feel that's definitely something a lot of up-and-coming designers should be considering in their work, when they are claiming sustainable practice.

I guess also some of the primary ideas behind Rhee Studio is working collaboratively with your audience and working on a commission basis. What does that relationship with your clientele mean to you?

That's my favorite part of the brand. I work alone on commissions, and due to time constraints, I only take on commissions that I feel excited by. I do all the client outreach/ communication myself and it really is a collaborative process. Some clients reach out to get an idea of pricing/ process and then won't place an order until 5 months later. Then they have to wait around 6-7 weeks to get their piece. Each piece is an investment and it weeds out consumers who perhaps may be used to fast fashion and don't have the patience or will to wait. Each piece is also a one-off - I don't make the same garment twice - in terms of layout, sizing, placement, color etc.

I'm not trying to mass manufacture and wear myself out by illustrating as many pairs I can to make profit. It's important for me to maintain a sense of authenticity throughout the brand's lifespan.
Amazing. So, final question - talking a little bit more about the future of Rhee Studio, what excites you regarding the potential for the brand?

I don't view Rhee as a traditional brand. I don't follow the seasonal calendar, I set my own timelines and launch items when I see fit. I'm direct to consumer and take made-to-order/ commissions when possible. This really opens a lot of doors with what I can produce in the future. I've worked at a few fashion brands since graduating college and most of the design / processes were heavily influenced by sales and what the consumer wants. This is obviously needed as at the end of the day, it's a business. But I really see Rhee as more of a portfolio, where I showcase projects I've been working on in collaboration with my friends. The ideal outcome from these projects would be to connect with other creatives, consult on projects for other larger brands and corporations, and implement sustainable practices where possible.
---
---
---
---