---
Pioneering an unconventional future in fashion and beyond – Introducing; Bebet

---

Whatever your perception of fashion is, Bebet is likely to challenge it. Evoking a sense of curiosity and unconventionality, Bebet continues to blur the lines of contemporary fashion and design.

Being described by founder and creative director, Nathaniel Santos, as a concept brand rather than a fashion label, Bebet transcends the boundaries of fashion through several of its nuanced design elements. Utilising eccentric fabrics and materials to construct their garments, Bebet conceptualises the body through the abstract lens' of fluidity and nonconformity. In their 2020 Hyper Couture collection, featuring an assortment of garments from the Armour concept, the designs adopt a 'nature-esque' aesthetic. Effortlessly aligning perceptions of the natural environment with the functionality of dress, Bebet absorbs these themes to present an engaging collection. Not to mention, the craftsmanship of the garments is immaculately constructed, specifically the Shinigami and Stone dresses that have caught the eyes of many, by featuring on the likes of ChloexHalle. The items reflect immense attention to detail, which can so often be applied to the other array of garments included in the Bebet's collections and curations.

Working alongside friends and likeminded individuals, Bebet seeks to continue prioritising those pushed to the margins of society. The representation of our diverse global community is naturally embodied throughout the work of Bebet and is particularly prevalent on their runways and in their shoots. Nathaniel discussed with us some of the select, yet fundamental components that have continued to elevate the essence of Bebet as a concept label. It was through this, that we could reflect on the arguably constricting margins that exist within the fashion industry, and why Bebet navigates to reject them.





Let's talk about the establishment of Bebet and the journey up until now.

I started making the first pieces of Bebet in 2016. It all started from an idea that I had and then I would just talk to friends more and more.

I started working at Opening Ceremony in LA when I was 21, and that was like my real moment in the fashion world. I had my first runway show in June 2017, and in 2019 Bebet was sold at Opening Ceremony in LA, so that was a cool establishing moment for me. It just became this conceptual idea that I was working on. It started off by going second-hand shopping and turning a lot of the second-hand clothes into new pieces. I never studied fashion or design, I just was always really into it. It was a fun thing for me and it caught on I guess.

Who is Bebet for?

I mean I don't really have a target audience, I like to think that Bebet is for everyone. It's crazy because all the people that bought Bebet, when it was sold at Opening Ceremony, were all people I didn't know before and didn't know me. They saw the clothes and it resonated with them. That reassured the fact that Bebet is really for someone who is looking for something special.

Bebet typically resists the mainstream aesthetics of fashion and design, therefore what inspires you to remain outside the boundaries of fashion?

I'm somebody who is always inspired and always getting inspired. I don't limit myself to one thing. My eye is always open, so I'm able to find inspiration in the most non-fashion things. I feel like that's what keeps me more inspired than say, clicking through Vogue.com.

When you think about making fashion, or making a collection – you realise it's a box and I personally don't want to ever box myself in anything. I'm much more interested in the evolution of fashion. I'm also mostly inspired by objects and art pieces. So, to put together a piece, I would think more about an object and how it can relate to the body. It's mostly just not being married to one thing and not thinking about everything as fashion.





What drives Bebet to adopt a more one-of-one aesthetic?

I think it's just being interested and connected to the fashion process. I've seen so many clothes come and go, with every season of every year. So, making something that is one-of-a-kind, just makes it more special and less wasteful.

In what ways do your experiences and/or surroundings transcend into your designs/garments?

I feel like what makes my garments personal is that it's from my perspective. I mean what we all have, that makes us really special, is our point of view which is always going to be different from each other's. That's so special and to honour that, is something that I think we forget about because we're so caught up with trying to look like each other nowadays.

When you can honour your own perspective, and put your spin on each piece it's so much more special. Especially in the Armour collection I just made. This collection was like a tribute or love letter to my life in quarantine. I thought about it as like making pieces that were reflective of memories or dreams that I use to have. There is one outfit that looks like a vine – coming back to what I use to feel when I would be in nature or when I would close my eyes and picture going on a hike. So, they were the colours that came to mind; it was what I knew nature was, my interpretation of it—the power in the perspective.

Some of your garments have featured on well-known individuals namely, Dawn Richard, Tommy Genesis and ChloexHalle, how did these opportunities arise?

These connections generally came from when I was working at Opening Ceremony. We had a lot of celebrities come through, and in that, I would form relationships with them. My manager Jenny, who was also a huge inspiration and the biggest supporter, would always champion me and show me off to the stylists as well. I was able to build a lot of really good relationships that way. A lot of those types of connections were also made on Instagram too. Posting and just not being apologetic, helps you to be your best PR.




How would you best describe the construction and innovation of your garments – particularly in relation to the Bebet hyper couture 2020 collection?

That collection started with me going into it and not wanting to make 'clothes' out of fabric. On this past Valentine's Day, I was at the very last physical party that used to happen in LA, called Bubbles. While I was there, I was in this room with these giant 5ft balloons. One of them was deflated on the ground. So, I just picked it up and wore it around my waist as like a cummerbund for the rest of the night and I took it home with me. The next time I went to go work on something, I took out that balloon and I was like "oh this could probably be something". So, I made my very first piece out of that balloon. Then lockdown happened, and I had all this time to think about this new process. I would just play around with different sized balloons. The real goldmine was the method of the Shinigami and Stone dresses, which came about from just playing around with different sized balloons and book rings and somehow coming up with that method and running with it.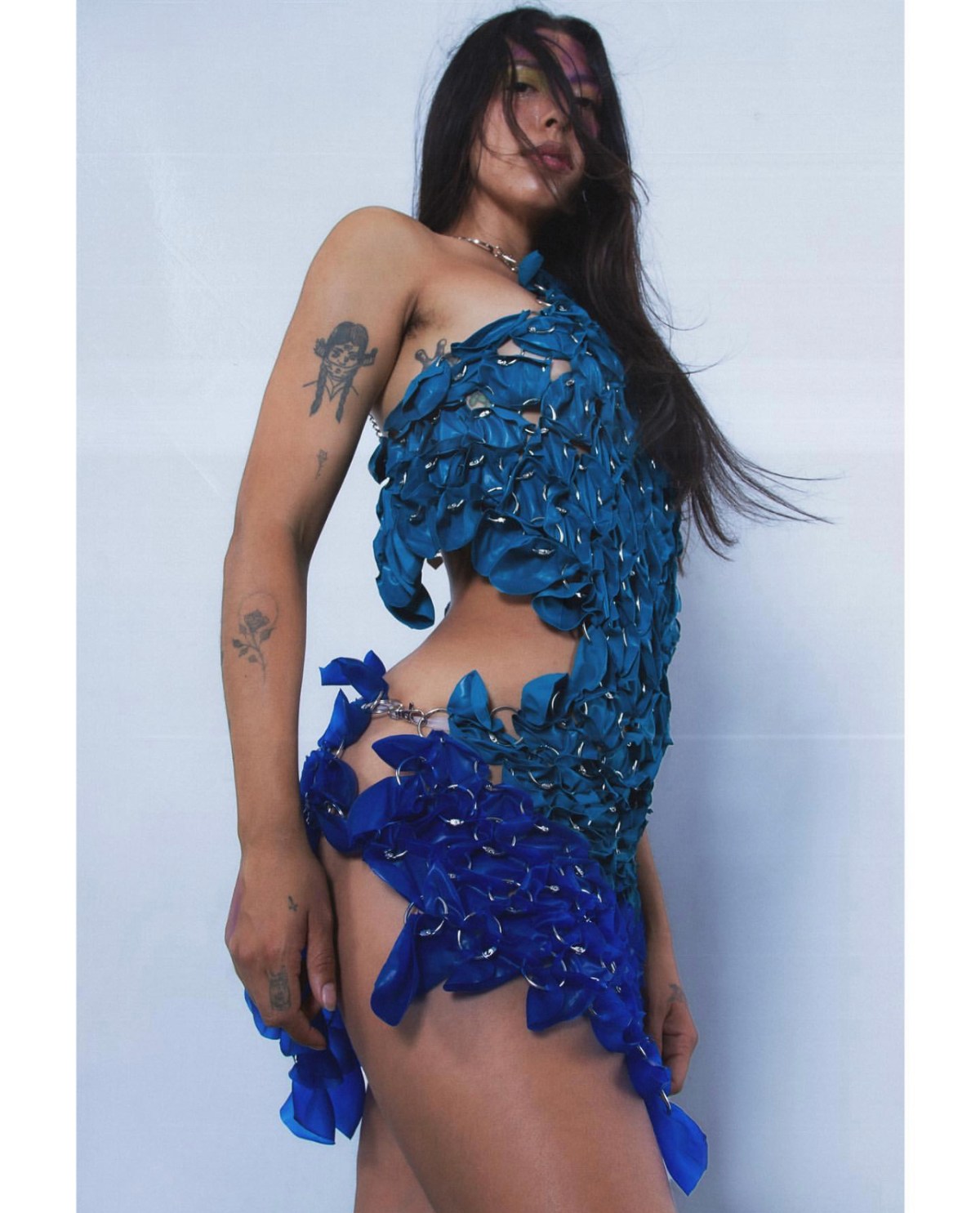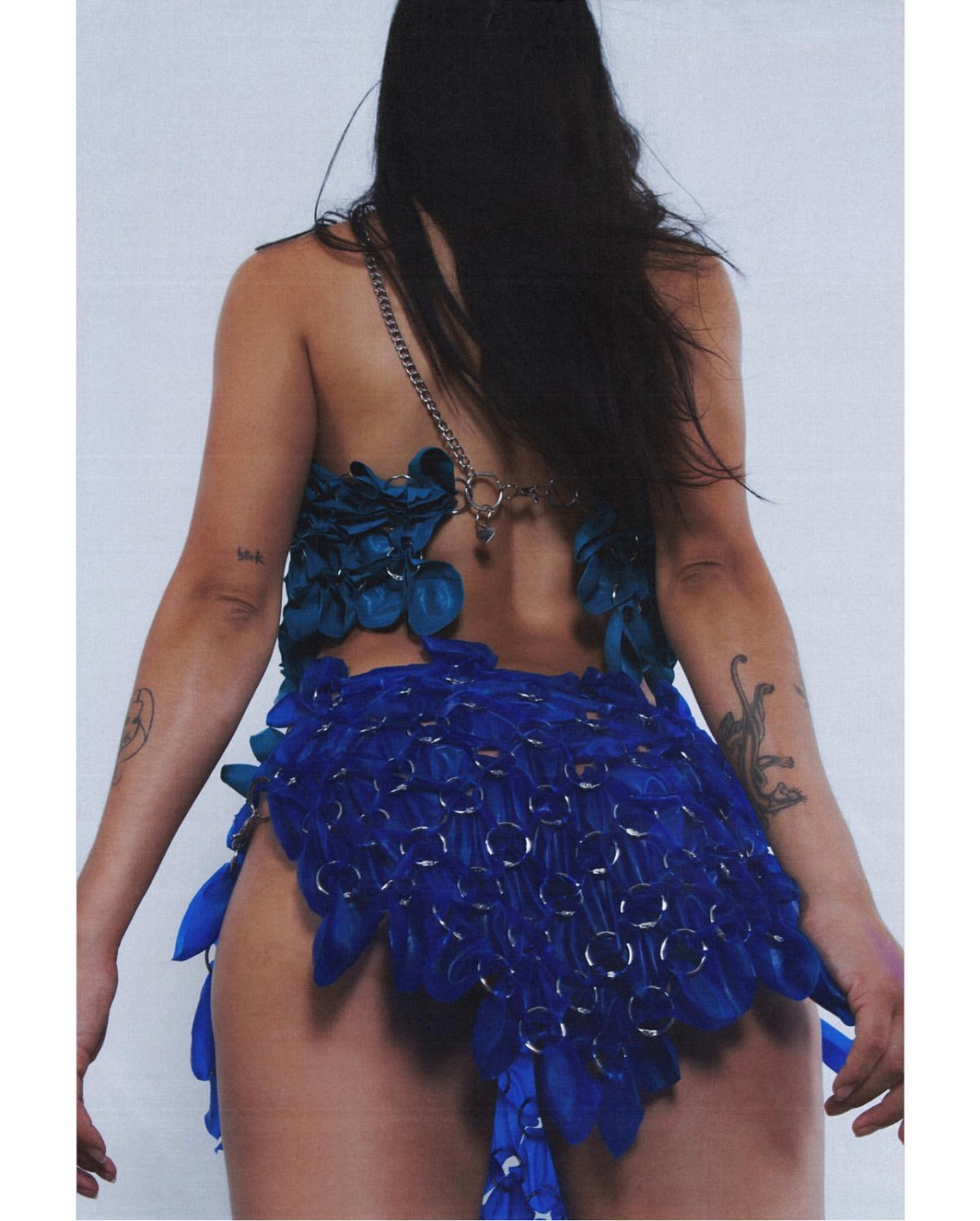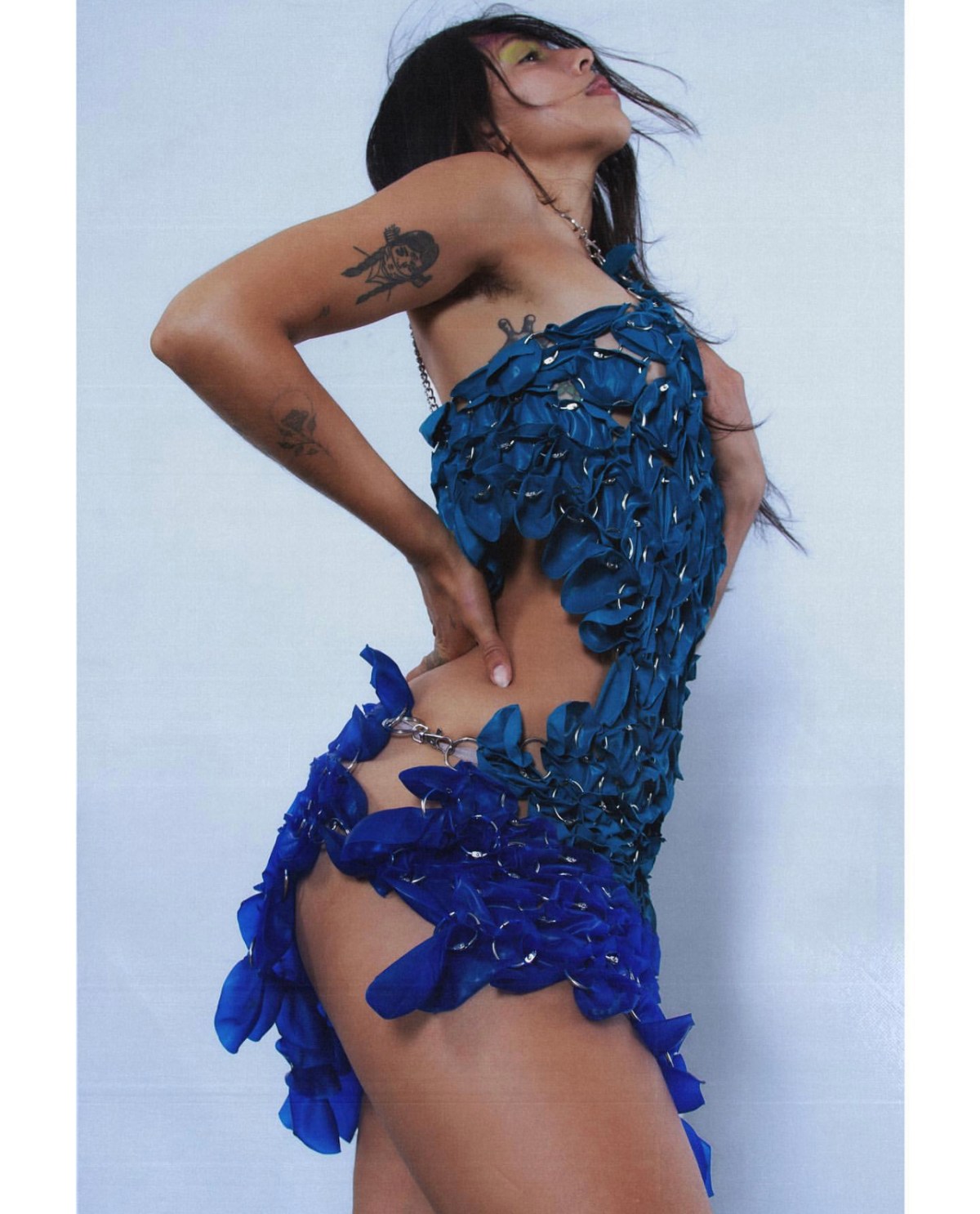 Honestly, I would've never been able to come up with that had I not had this quarantine time. They [the Shinigami and Stone dresses] really are a testament to the time off we have been able to have. It is allowing me to focus and really develop this process.

As a designer what are your aspirations for the fashion industry and how are you working towards achieving them?

This was a tough question because I still don't really have goals to be a 'designer'. Hey, if I get tapped for the Chanel job one day, I'll take it… but until then what I really want to focus on; is pushing my pieces to the farthest that they can go.

I also want to continue making pieces that can have runway shows and shoots so that I can cast people who are marginalised – people of colour, queer people, trans people, people with disabilities. I want to just be able to give back that way and represent. I want to continue working as an artist, not as a fashion designer. However, I am so thankful to still be making pieces and how far I've come.
---
---
---
---