---
Kacey Jeffers strips away the artifice in his new project 'UNIFORM'
By
Julie Fenwick
on February 11, 2021
---

The way art and information are consumed at present has arguably become increasingly instantaneous and surface-level. It's an age arising from social media and the globalisation of information, one that could be said to be defunct of patience, yet also thoughtful analysis. However, amongst the rise of a new type of consumption, photographers such as Kacey Jeffers, continue the work of forebears connected to the want of telling lingering, multi-layered stories.

His latest project 'UNIFORM' testifies to this idea. The course of collecting the juxtaposing, brightly-coloured images exhibiting school children's innocence, dressed organically in their school garments; the stories of naivety, yet power in youth emerge. It is the apotheosis of his work to date, honing a universal symbolism of school culture while exploring the Caribbean's Nevis's locality, in which Jeffers was born.

Returning to his roots, Jeffer's inspiration for images was conceived in his hometown through family portraiture. Then the world of fashion led him to the U.S, both as a model and a photographer. Deep eye contact, individualistic posing, and striking colours signify Jeffers' work, the latter no doubt a result of Nevis's thriving culture. Returning from NY in 2018, leaving with a new conception of race's ascendance and identity importance; Jeffers began 'UNIFORM', the beginning of his most in-depth exploration of his birthplace.

To grasp the photographer's storytelling, we sat down with Kacey to talk about his desire to strip away the artifice, how he chose his subjects and how his project came to fruition.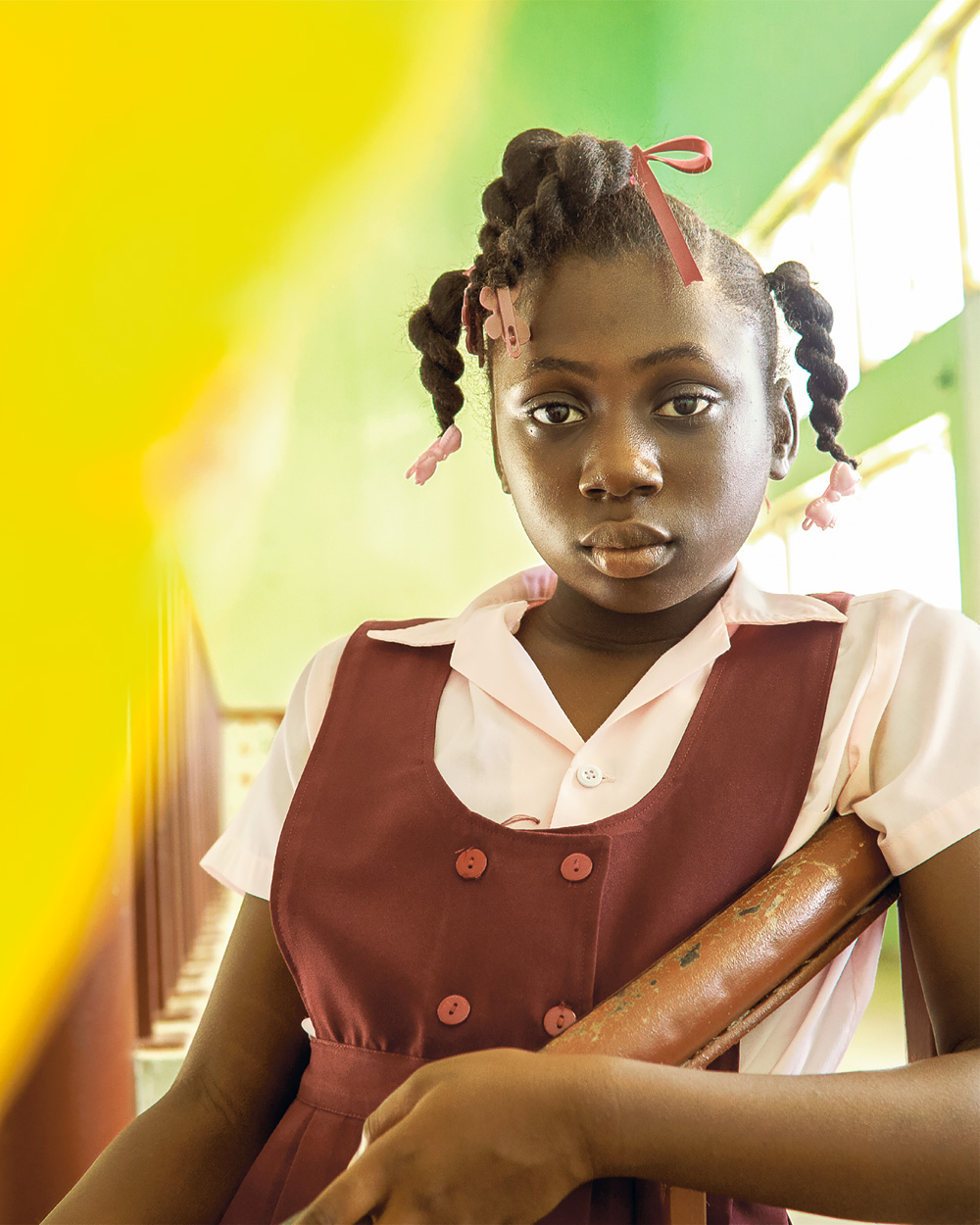 Your bio says, 'Photography solidifies his desire to strip away artifice'. What do you consider to be the raw layers of your subjects, and what's the process of peeling back said artifice?

The purpose of photography, and who has access to the medium is evolving. We're taught this idea of "a photograph is worth a thousand words" but that's not true. In a generation that has stretched the medium's limits, we have found ways to personalize its use to show the world who or what we think we are. Often that's very surface. It's not just a modern selfie generation problem: the manipulation of what is seen. It's historical as well. For me, my subjects' raw layers are their story of themselves, my perception of them, their physical presence, their personalities, emotions, and clothing, hair, make up, etc. What excites me is seeing a glimpse of someone's essence and using the camera to suspend it in time and space. There's no process per se. It is knowing how to pace myself in a session and be present to what's happening and what might happen next and be willing to go with the exchange flow. It's a dance.

How would you describe your approach to photography in general?

I want to tell stories; stories that will connect people from all walks of life. My work is very much people driven, somewhat psychological, and it's all to satisfy my curiosity about other people and in doing so, understand myself more.

You ventured to New York City a few years ago, returning to Nevis in 2018. How did that experience of moving between two very different social and political spheres inform your work?

When I moved to NYC in 2015 to live, I had to balance varying aspects of survival. It was exciting and daunting, but my heart was in the right place, and that kept me going. Being in the centre of it, I never had the time to sit and really think about the bigger picture. Leaving NY and returning to Nevis, I had space and time to sit with myself and really dig deep into my life. In NY, I was pursuing a 'fashion' path in some ways; I felt that I had to do this even though I never truly felt like a fashion photographer. Being home, I detached myself from that, and even from being "a photographer, " I saw myself as creative, and I am driven by curiosity to tell stories.

Living in NY opened my eyes to art and culture–the possibilities. I'm an observer, and there is so much to see and soak in from the cast of characters that inhabit the city. I can then use what I saw in directing a model or even the concept of shoots in Nevis. When I returned, I had this great desire to look at my life from the foundation to the present. The idea of being an artist wasn't in my vocabulary growing up. So even with doing UNIFORM, it was in some ways an attempt to put it there for my 5-year-old self to see.

Additionally, living in the U.S. opened my eyes to race in a different way. I am privileged to have grown up in Nevis, where I am in the majority. That gave me a strong sense of identity and a deeper understanding of the importance of representation!

What was your initial inspiration behind the project 'UNIFORM'? How did it come to fruition?

It really was a desire to see myself and for Nevisians to see themselves. The idea came to me, and I thought it was perfect. With the project, I could tell a story that could foster a connection with people from all walks of life and merge photography genres harmoniously.



I've read that choosing the subjects for the shoot was a fairly democratic process, yet you wanted to choose kids that wouldn't ordinarily be centre-of-attention. Can you explain the process of choosing your subjects and what it was about them that sparked your interest?

My only request to the teachers was to consider students who weren't usually in the spotlight. I went into each session blindly. For the most part, I had never met the kids and didn't know who I would see that day. I had no idea what the locations might be. But I felt what I wanted the project to be on an emotional level, which gave me the confidence to show up and be present and ready to go with the flow. I really like working this way and secretly wish every shoot could be like that!





How much of yourself and your own experiences of school life influenced the images that were chosen for the final project?

It was interesting going back to my high school and making portraits in my old classroom and the hall. For instance, in Alecia, 16 Gingerland Secondary School, there's a podium in the frame that reminded me of standing there having to give my Valedictorian speech millions of years ago. Because I did the interviews with the kids, I had a glimpse into their personalities, so I tried to take pictures that could reflect that individuality. Through that process, I saw similarities between their experiences and mine at that age. In some ways that felt very cathartic: it put words to feelings I might've felt but didn't have the freedom, courage, or opportunity to express.





Many of your subjects throughout your bodies of work, including UNIFORM, involve the use of direct eye contact with the camera. Is there a significance behind this?

That's such a great observation! Maybe it stems from my deep need to be seen and I'm using the subjects to fulfil that? ( laughs) No, I love that feeling of subjects looking through me, through the lens into the viewer, I'm a conduit for this connection. It's not something I plan. Funnily enough, the other day I thought I have too many pictures of subjects with their eyes closed. Going forward, everyone will do the 'I-d wink.'

Your work is bold, contrasting, and often-times subject driven. In your opinion, where does the influence of your style of photography come from? Additionally, who are some of your major influences, inside and outside of photography?

Thank You! When I started my influences were largely fashion-based- Steven Meisel, Peter Lindbergh, Juergen Teller. Over the years, my influences have evolved and include Gordon Parks, Cindy Sherman, Carrie Mae Weems– lots of photographers that explore the human condition in different ways. I also like looking at films, even reading books is an inspiration.
---
---
---
---