---

Ja'Tovia Gary challenges cultural and political structures of power by placing black womanhood in the centrelation, through visual narrative and guided rhetoric

---


On display at the Paula Cooper Gallery earlier this year, a fifteen-foot screen projects Ja'Tovia Gary's award-winning feature film, The Giverny Document (Single Channel), 2019, while its two flanking projections broaden the central channel's critical and affective resonances. Combined with a sculptural exhibition to make up THE GIVERNY SUITE, the visual language of Ja'Tovia Gary works to centre black womanhood through new modes of engaged media that challenge cultural and political structures of power.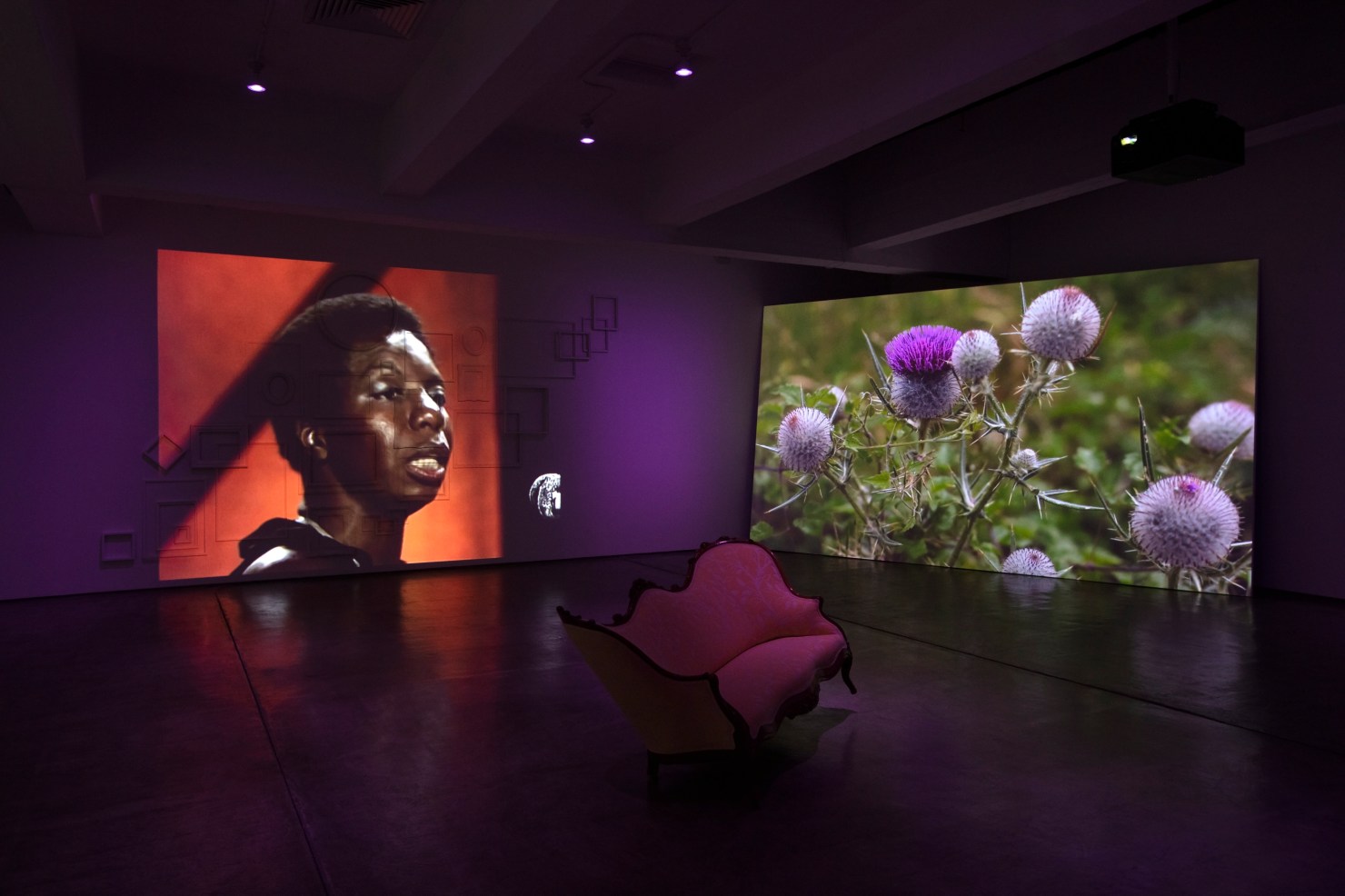 Ja'tovia Gary, The Giverny Suite, 2020. Installation view at Paula Cooper Gallery, New York. Photo: Steven Probert


Presented as a cinematic poem, Gary employs direct animation on archival 16mm film, woman on the street interviews, cinema vérité and experimental film to investigate our perceptions around race, gender, sexuality and violence. Titled Precious Memories, Gary's first multimedia sculptural installation occupies a second room in the gallery, mobilising the mise-en-scène provided by the exhibition space with a gesture towards her childhood living room.

Featuring Nina Simone at the Montreux Festival in 1976; Diamond Reynolds following the murder of Philando Castile in 2016; Josephine Baker in the 1934 motion picture, ZouZou; Fred Hampton speaking on political education, c 1968-69; and an early twentieth-century Haitian travel log, Gary recontextualizes archival images through multi-textured montage. "My engagement with the archive is very much an intervention. It's me attempting to have some sort of presence in that space and be critical about what I find there and how black people specifically are being represented through a historical lens." Through the juxtaposition of many strands of history, Gary demonstrates the whitewashed subjectivities that dominate the visual world and how these feed into the same structures of power that are omnipresent in contemporary life.




Ja'Tovia Gary, Precious Memories (2020). © Ja'Tovia Gary. Courtesy Paula Cooper Gallery, New York. Photo: Steven Probert.


Motivated by the collisions and conversations that come about through placing together images from past and present, Gary's work spans space, time and geography. With sources ranging from YouTube and footage houses, to eBay, estate sales, and rummage sales, Gary explains, "I'm interested also in texture, in the material of the film. Oftentimes, I am reappropriating 16mm film and animating directly onto the surface of this." Citing Laura Mark's concept that, "For intercultural artists it is most valuable to think of the skin of the film not as a screen, but as a membrane that brings its audience into contact with the material forms of memory," Gary emphasises the importance of the haptic in her work as she troubles the idea of static technology.

Fusing documentary of contemporary racial politics with an exploration of both the history of representation and the moving image itself, THE GIVERNY SUITE fleshes out a nuanced and multivalent black interiority. Through techniques that include both her use of archive and montage, as well as street interviews between herself and black women in Harlem, Gary explains, "In some instances, it is just about what's going on internally for me. But it's also about the intramural. For black communities, black families, black relationships, there is a kind of interior conversation that other people may not have access to. They're listening in on, but they're not necessarily a part of that conversation."




In order to successfully capture this sense of interiority, Gary subverts the documentary tradition, with its historically white western male gaze, to promote the underrepresented radical black femme gaze. "This is not necessarily just something that's in opposition to those particular filmmakers, it's in opposition to a whole way of looking and thinking about images," Gary explains. "When we talk about a black feminist subjective gaze, we're talking about owning our own conceptions of our realities, crafting our own stories, crafting our own polyvalent depictions of who we are without the influence or interference of the dominant gaze or the dominant narrative, which historically has worked to flatten who we are."



Ja'Tovia Gary, Precious Memories (2020). © Ja'Tovia Gary. Courtesy Paula Cooper Gallery, New York. Photo: Steven Pro


Spending many years involved in theatre throughout high school and college, Gary presents the power of performativity in THE GIVERNY SUITE, exploring the idea of performativity as a defence mechanism. "We talk about defence mechanisms as if they are inherently bad," says Gary. "People develop defence mechanisms because they feel like they need them, not all defence mechanisms are superfluous and toxic. Some of them are just necessary and they continue to work, while others are, of course, ones we need to throw off as we grow and evolve past trauma." Performative power at its best is encapsulated in the film's dominant figure of Nina Simone, which Gary explains as an important example of black female creative virtuosity that displays precisely what the performative tradition has done and can do.



Coming up against the commercialization of New York's theatre scene, Gary describes her pivot to a directorial position. "I quickly realised that the history of black performance has not been simply commodified but codified around these archetypes, and they're very narrow and flattening." From this point she transitioned into a director role to regain a sense of agency and latitude around what a black woman's performance looks and feels like. "No longer am I going to be inserted into this very narrow and small conception of what black womanhood is. I can now do the conceptualising around what the character looks like, feels like and acts like."

In both form and content, THE GIVERNY SUITE seeks to subvert the structures of power that influence contemporary visual media, reinforcing how the media landscape reflects our everyday existence. "We're not making artwork in this bubble far removed from the everyday realities of the nation state," Gary explains. "Everybody has their own concept of why they do what they do. That for me is very clear. I think it's important to talk about what is happening in society. As Nina Simone talks about, the artist's role is to reflect the times. Or else I'm just here getting money and trying to be famous?" Considering the role of the artist, Gary reiterates the importance of who you are talking to when you make your work and what you are saying to them. Grappling with questions of bodily autonomy, identity and interiority, THE GIVERNY SUITE positions itself as a critique of social and historical forces as it proposes a new radical way of looking and listening.

Watch The Giverny Document (Single Channel)
trailer here
---
---
---
---