---
---

Born and raised in Tashkent within a close knit Soviet-Korean community, Jenia Kim experienced a creative and fiercely independent childhood within a harmonious, multicultural neighbourhood where her Uzbek neighbours cooked Korean cuisine as well as her own family. At 11, she moved to Moscow where she first experienced the sense of disquieting alienation that she eventually alchemised into her source of power by college. Jenia, by then an aspiring designer and storyteller, realised that her uniqueness within her surroundings would eventually become the special point of view from which she would distinguish her creations.

Today, Jenia is as intrinsic a fashion designer as she is a cultural anthropologist preserving the waning legacies of her uniquely disparate cultural lineage through beautifully poignant and reverently researched collections. Jenia's family are from the small diaspora of Koreans in Tashkent whose history included fleeing from Korea to Russia only to be deported to the former Soviet, East Asian country Uzbekistan during Stalin's regime. Her collections weave together the three intersecting countries through their national costume to present a piece of history in wearable statements that are created by the rare hands of women whose craft and skill are directly inherited from their ancient customs.

Throughout 9 collections, Jenia presents the history of her ancestral path along the silk road in seasonal vignettes. Between Uzbekistan, Korea and Russia, Jenia nomadically travels to the location of inspiration for her collections to minutely study the culture and customs pertaining to traditional costume within the regions. Her collections are formed, with unwavering attention to not just the visual aspect, but also the cultural significance of every detail. Cultural motifs are made by the locals specialising in the intricacies of the traditional techniques employed to tell her seasonal stories. For instance, J.Kim's SS18 collection was inspired by the Korean Haenyeo community, in Jeju, whose income was chiefly formed from diving; and whose women were pioneering independence by replacing lost husbands in the profession – proving that they could take care of themselves in the absence of men. To make this collection, she visited Korea to meet with the divers and communicate with the women as research.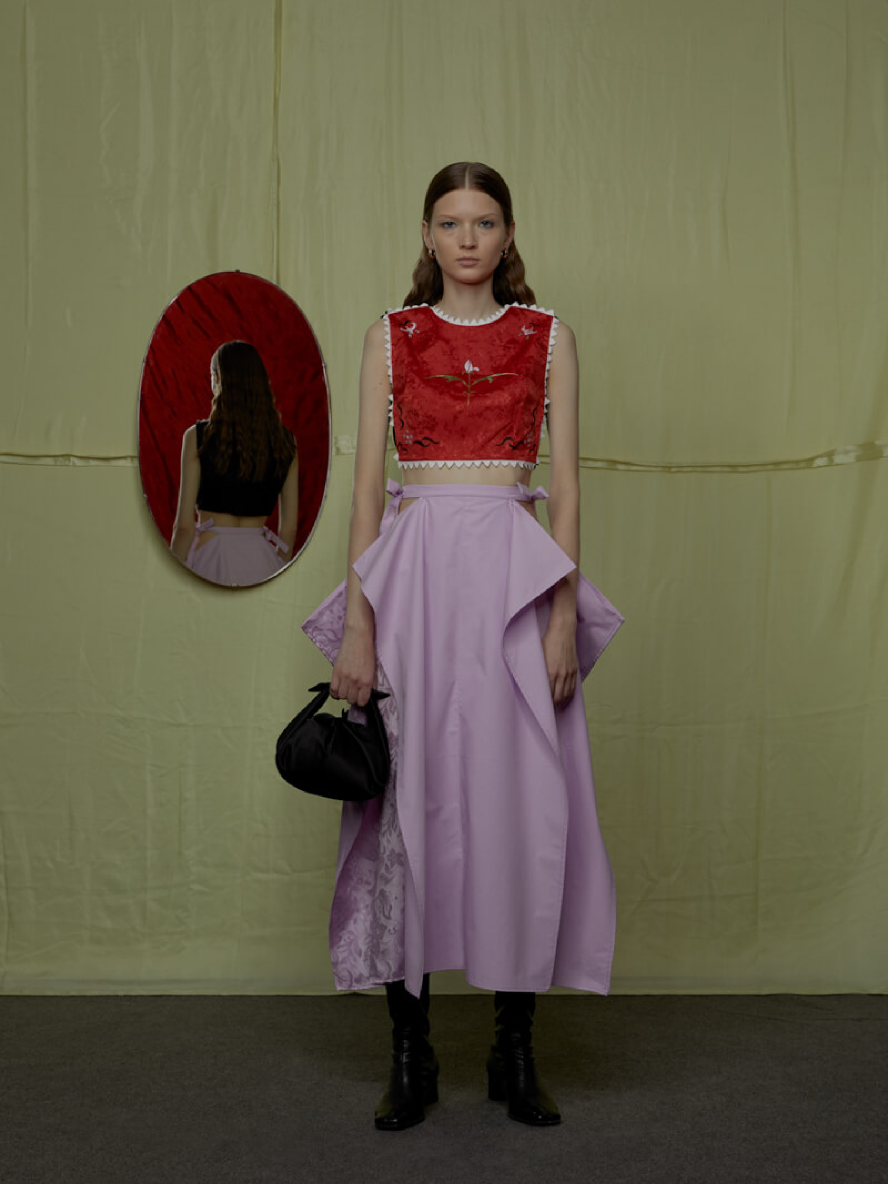 SS20 took Jenia from Moscow back to Uzbekistan where she lived for 6 months to delve into the traditions, garments and textile techniques produced by Uzbek women. From the age of 11, girls in Uzbekistan traditionally prepared their dowry: works of intricate embroideries that employ handicraft and know-how passed down generationally. Unfortunately, globalisation has caught up with Uzbekistan and with it comes the ensuing death of cultural tradition, including the appreciation of these handiworks; as well as the old-fashioned concept of dowries. Whilst the locals were disinheriting these rich works, and the skill that's required to produce them, Jenia set about preserving their craft and reclaiming its meaning. J.Kim's SS20 collection presents a new kind of dowry, one made by women for women to buy for themselves. The collection comprises feminine, relaxed and wearable shapes that loosely reference Uzbekistan's national costumes whilst emphasising the ornate detailing of the embroidery work and fringing that bring them to life.

A sense of magic emanates from J.Kim's collections, the kind you feel when pairings of seemingly contrary ideas create a new way of seeing that feels inevitable. Unsurprisingly, the cultural journeying and study for each collection coincides with the discovery of Jenia's own identity and purpose, which we are privileged to witness as the brand increasingly takes on the fierce independence and complex cultural identity of its designer. And the work is special because, as Jenia bridges the geographical and cultural spaces between her lineage, the customs are disintegrating before her eyes. It's fortunate then, that she richly gifts her findings as the beautiful, lovingly researched and referential collections to the realm of mainstream fashion.

We recently spoke with Jenia about her rebellious youth as a Korean in Uzbekistan and Russia, creating a workshop in an amusement path, weaving jewellery with her mum, and the future of the captivatingly nomadic brand that is J.Kim.

Firstly, can you tell me how you came to choose fashion design as your path?

When I was two years old, I cut pieces of fabric out of curtains from my family home and made dresses for my dolls.

Until 11 years old, I grew up in Uzbekistan, and at that time, the children freely moved around the city without parents, for example, I went to my kindergarten alone. So I was quite independent and decisive for a child, and when at 6 y.o., I found a drawing teacher, my mum could not resist my aspiration. From that moment, I was constantly engaged in creativity. At the age of 17, despite my mom's wishes, I entered a clothing design school. Mum wanted me to design for advertising because it was supposed to provide me with a more secure future, but over time she saw how much I love fashion design – now she and my whole family actively support me. I was always a problematic teenager. I wanted to do everything despite my parents because we moved from Uzbekistan to Russia for the sake of my future. Then I did not understand this and constantly protested, skipped school, started drinking and smoking early, spent time with "bad company". And when I began to design clothes, I completely immersed myself in it, putting all energy into my collections.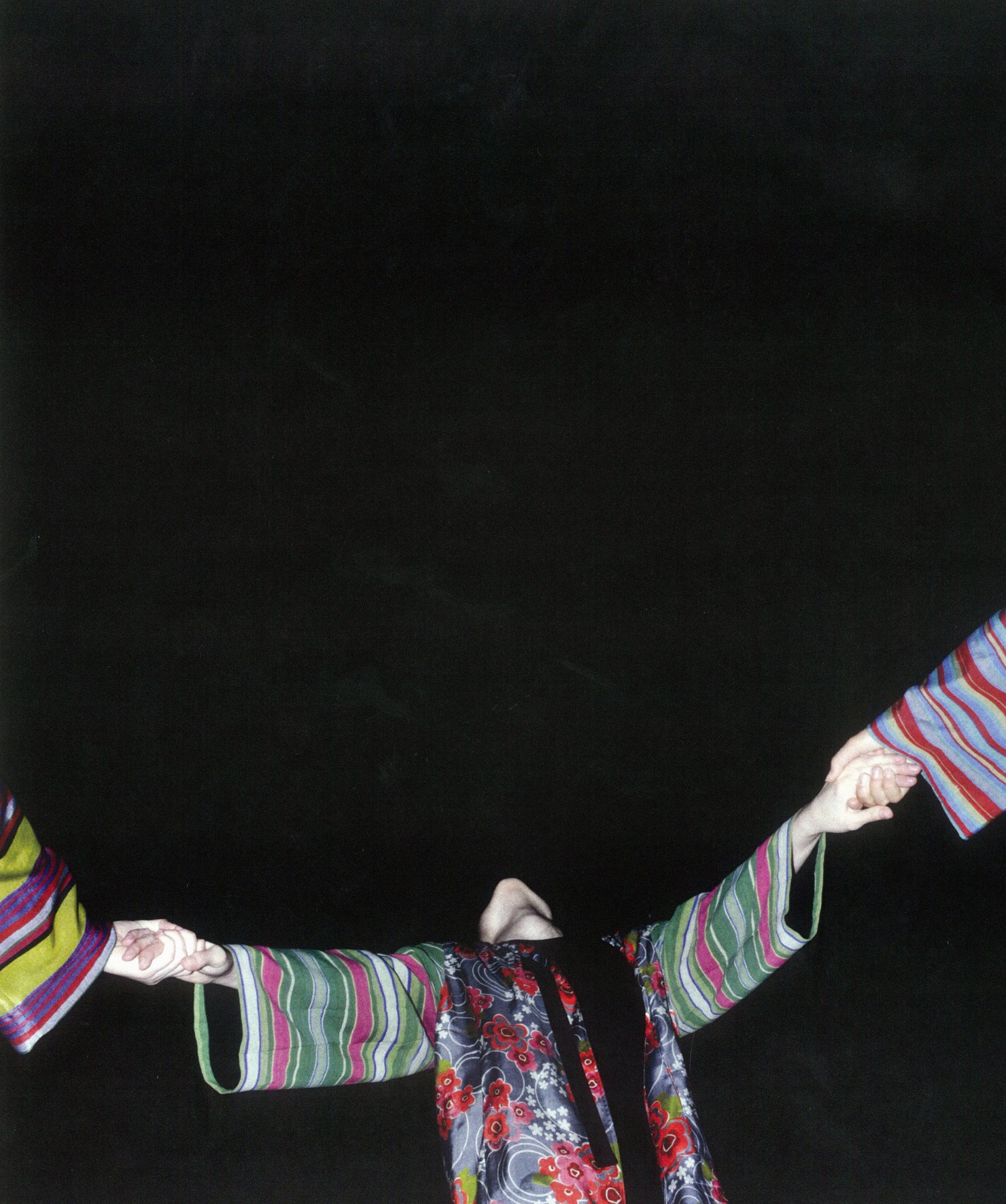 What was it like to be a Korean woman growing up in Tashkent and studying in Moscow?

In Tashkent, I grew up in a cozy bubble: there was a warm house, amiable neighbors (mainly Koreans), and friends. I thought that everything in the world was like in this bubble. The neighbors in front of our apartment were Uzbeks, we all were very close, and Aunt Valya was able to cook Korean food as well as us.

When we moved, everything changed dramatically. I was shy that I was the only Asian in the whole village and was afraid to leave the house. Being Asian in 2001 in the Russian suburbs was difficult and even dangerous. I had to fight for being myself, and the way my mother raised me helped me hugely in this. In high school, I made friends and began to realize my uniqueness. When I started to design clothes, I realized that I have the potential and something to say. I'm no longer shy about myself and my origin. On the contrary, I find my power and inspiration in this.



Did you have a Korean community around you to keep your connection to the culture alive?

We had a Korean chat for everyone where we met and talked with Russian-speaking Koreans, went to Korean parties, cultural events, and Korean underground cafes. I also have a lot of Korean relatives coming to Tashkent on vacation once a year, we also visit all of them and always keep in touch.

Now I am exploring the Soviet-Korean culture more deeply and constantly meet with Korean cultural representatives.

In your view, are there any similarities in both cultures? What are the most striking differences, and are these difficult to balance in your life?

The most significant similarities are family values, love for endless feasts, respect for elders.

The difference is that most Soviet Koreans are not committed to any religion. For example, in my big family, only my grandmother and aunt are baptised, Uzbeks, on the contrary, are usually quite religious.

How is the location of your living and production process important to your practice?

In the last two years, I have been working on collections in Uzbekistan, not Korea. I feel free and alive there. Tailors and the designer with whom I work there are passionate about what we do. They are proactive and happy to work on complicated things. They don't spend their talent on mediocre things. I found there amazing artisans from whom I get not only ready pieces but also the exchange of creative energy. I am happy to work with people who love their job and don't do it just for the money.

Plus, my latest collections are about Uzbekistan and Soviet Koreans, and it's crucial for me to feel the collection before embarking on the tailoring. In Uzbekistan, I am surrounded by my inspiration and can honestly transmit what I see around me.

What inspires you and your collections?

I am interested in delving into the particularities of Korean and Uzbek cultures. While doing research for my collections, I learn more about myself, trying to feel my identity and to find a common language that harmoniously combines the cultures of Uzbekistan, Korea, and Russia. Small cultural groups inspire me with their long tradition existing despite mighty globalization. I would dream of going to a time when everyone wore their national costumes.

And I am hugely inspired and moved by people who, with their strength and diligence, achieve their goals. I already managed to make a collaboration with London's Pearl Kings and Queens, went to Jeju to meet Korean divers, and make a collection about them. There are a lot of astonishing local artisans with whom I dream to collaborate.




What is your seasonal design process?

Before moving to Tashkent, I had my manufactory in Moscow. I took one intern for each collection, and we spent days tirelessly working with my designers and tailors. After this stage, I took a half-year break because I was tired and wanted to understand if this was my vocation.

Now when I work on a collection I rent a house in Tashkent, paint there alone, I like to do this by candlelight. Then I meet designers who have workshops at their homes. I like it because it creates a heartwarming atmosphere: people don't need to leave their families for a whole day. We develop layouts and pass them to tailors.

The process behind the FW20 collection was one of the most surreal productions we had. I rented an atelier for my team, and it was located inside the amusement park, right in front of a huge Ferris wheel. Every evening the park lit up with lights. I went out to smoke and look at this wheel, while work inside was in full swing, and felt happy. As we finished, we usually climbed over the fence because the park was already closed at this time.

When there is no big budget for an equipped studio, we somehow find unusual dreamlike solutions. I had to create collections in a crumbling communal apartment, in houses of unfamiliar people, in an amusement park, or in Korea when we slept under sewing machines because there was not enough space in the condo that we rented, and it was always a fun adventure.

Who is the J. Kim woman?

She is fueled by beauty, and cannot live without it, she loves art, she explores the cultures of different countries as well as her inner world, she is open to the new.

I am happy that J.Kim is appreciated by the women who value what they acquire and want to know what is behind the brand and its processes. They have good innate taste and core that they prioritize over the crowd's obsessions.

What is the story behind SS20?

To work on the SS20 collection, I lived in Uzbekistan for six months to delve into customs, traditions, and textile techniques. Some of the garments produced by Uzbek women who pass legends through their craft. I was focused on principles of fair trade and sustainability even more than usual, partly using vintage, stock, or handmade textiles from local markets. The SS20 collection represents a new form of dowry that you can buy or make for yourself, whether you are going to get married or not.

The most disturbing thing is that all the beauty of Uzbekistan is disappearing in front of our eyes: all these things that were made for the dowry, every house interior detail, ancient chests, etc.; everything is thrown into the trash and instead of saving it, the majority of Uzbek people buy plastic mahogany furniture, foam plinths for plaster, cheap synthetics dresses. The locals seem to be very embarrassed about everything that I was inspired by. I suppose they thought that we were mocking them as if we admired their poverty.

Women who worked on the collection inspired me the most. They are sturdy, independent, and so coincidentally, all of them are single.

Over 9 beautiful seasons, how have you and your brand evolved?

I think I learned how to make things more practical to wear in everyday life. Before, my priority was to bring ideas to life, and I could not imagine who would wear it and how. Now I often think about it, because over time, the portrait of J.Kim woman becomes clearer.

The collections are also produced more professionally and cleaner with a lot of functional details.

I think now I have found sense in what I am doing. For some time, I could not answer what the point of my work was, and it afflicted me a lot. I always wanted to be useful and could not accept the fact that globally I did not bring any meaningful benefit, except for making happy customers who could buy my pieces. It pushed me to do more projects with small local cultural groups, to produce things in Uzbekistan, and to make the process as ethical as possible. This way, I find more joy and sense in my creative activity.

Every season I try to evolve my visual language to make it more lucid and distinct. I can't say that I am absolutely happy with the result, but I see that I am moving forward, and this is probably the most important thing.




What is your personal style and fashion ethos with respect to dressing? Do you infuse this in your collections, or do you keep the brand separate from your style?

Most often, I can't wear things from my new collections because I have a feeling that I wore these things continuously for half a year – this is the period during which my thoughts are busy only with a current collection. Only after a year or two I lovingly get back to some garments and take them to my wardrobe. My appearance varies greatly depending on the mood. Sometimes I love to dress up – un case my collection of vintage earrings, wear beautiful high-heeled shoes, and style it with pieces from my collections or my favorite designers'. And sometimes I live in jeans and a T-shirt for several months because this suits my mood better.

Has Covid-19 changed the way you and your teamwork today?

It is quite complicated now: everything has slowed down significantly, so we are in a constant process of searching solutions for numerous emergent issues. Supposedly there will be no flights between Moscow and Tashkent until September, which means that we most likely will not be able to produce the FW20 collection.

Attempts to sell right now can be annoying even for our loyal customers; stores cancel orders, and some cannot pay for orders that are already delivered. Since we have minimal production volumes, this hugely affects the life of the brand.

While production is on pause, we have updated our website and are thinking about new projects.

In a way, I am lucky that I had the half-year gap experience before, so now I am not very scared to start all over again. I believe that if we want, we can continue to do things in which we believe.

What are you currently working towards?

I am staying home and weaving jewellery with my mom. It looks like tiny men made of beads and should brighten up the isolation for those who miss friends. I think a lot about the collections and projects that we will implement when the lockdown is over. Also, I am working on the selection of costumes for my friend's movie.

What is keeping you hopeful amidst these strange times?

Now it is challenging to remain active and motivated as before, I try to accept this and not to punish myself for it. When I feel sad, I recall times when I was truly happy, and most of these memories are related to my creative process. I hope that when all this is over, we will all blossom again, will do what our souls reach for, and will be happy.

Where would you like to take J. Kim in the future?

I want the brand to be represented in different corners of the world in stores that have their unique vision, such as Maimoun in New York. It is my pleasure to have retailers who successfully sell my things to those who fall in love with them.

I would like to have a large studio with selected artisans and to create unique handmade pieces in collaboration with contemporary artists.

Also, I want to create a modern creative centre in Uzbekistan, so that children grow up with an understanding of the beauty, appreciate the culture, and have an opportunity to realize their ideas.
---
---
---
---