---
Commission on redefining how East Asian style is portrayed in the fashion industry
---


As first generation immigrants in New York, fashion designers Dylan Cao, Huy Luong (Vietnam), and Jin Kay (South Korea) saw that; while the industry often drew from Asia's traditional dress codes, little was said about what Asian women really wore within a multicultural, modern timeline. Bonding over the inspirational legacy of their mothers' unifying strength and style, Dylan, Huy, and Jin found that, despite working in different professions, their mothers shared remarkably similar ways of dressing. These were strong women who composed practical looks for success and fun, who intelligently acclimatised to a new culture with the bilingual visual language that has become an icon of effortless style. An elegant sense of order within an undeniably chaotic world.

Addressing the limited perspective in visual language when portraying East Asian style, Dylan, Huy and Jin launched 'Commission', and over the 4 collections; in 2 years, they fondly immortalised the way their mothers translated Western dressing with meticulous attention to detail and idiosyncratic personal touches. This is shown in quirky colour combinations or unintentionally brilliant pairings of fabrication that espouse an ironic, campy flair. Impeccable tailoring etches confident silhouettes where sexy is a sense of humour, freedom of movement, striking shoulders, and cinched waists. There is a joy and duty that pervades every detail of the collections from the pieces, through to the styling, casting and grooming. Somehow, Commission distils and makes constant the enduring timelessness of strong Asian women throughout their collections. Regardless of seasonal variations, she is constant. She's immaculate, she's fierce, she's prone to cheekiness, she's full of love, she's ready for life. She's all women.

Today, Commission successfully redefines how East Asian culture is represented in the visual world and especially the fashion industry. Shortlisted for this year's LVMH-prize, Commission crafts their message by telling the story of how working women from Asia interpreted Western dress codes in the 80's and 90's. Despite this seemingly specific cultural commentary, Commission strums a universal chord by allowing a niche, essential moment from the past narrate what is now so familiar today. The result is covetable clothing for women celebrating women, and most specifically the globally cherished working mother.



This pure and singular vision that found its beginnings as a personal ode to the design trio's mothers has blossomed into a platform that builds community beyond selling clothes. The brand's secondary projects Commission Femmes and Commission 1986 celebrate and spotlights Asian women, women of colour, and the charismatic style of all fabulous mothers. What is really special is that, Commission's personal perspective and narrative goal transcends universally through the relatability of all foreigner's interpretation of Western dress codes worldwide – this way modernism is expressed in the embracing of cultures.

To view their work is to sojourn through nostalgia, regardless of your background, before collectively arriving somewhere so excitingly sleek and new. In isolation, we catch up with Dylan, Huy and Jin to discuss their story, their inspirational mothers, the Commission women and how they're navigating the new world.

Can you tell me about how the three of you met?

Huy – We met each other at a mutual friend's birthday party. Dylan and I had known and worked together for many years prior to meeting Jin. We became friends quickly and spent about a year talking about the project.



How do each of your voices and backgrounds differently contribute to Commission?

Jin – It may sound chaotic, but we often collectively make all the creative decisions together. We do, however, have specifically allocated roles in different areas. Dylan and I often kick-start the design process – myself heavily focusing on clothing and Dylan on accessories, given our formal training in each category. We simultaneously exchange ideas with Huy, and gradually shape the collections as we go. Huy is in charge of executing the graphics, prints, look-books, and the overall visual identity of each season. Dylan does tend to split his time up to consult with everyone along the way to make sure that our language is consistent.

How would you each describe your mothers?

Dylan – Our mothers also worked in quite distinct fields and held different occupations. Yet it was very interesting to learn that the way they dressed had a lot in common. Jin's mother was a doctor who dressed strictly in pencil-skirts and blouses underneath a lab-coat. My mom worked in human resources, quite corporate, so I almost never saw her in a dress at work. But she did have a little more freedom to switch between skirts and pants, mixing in her silk blouses and suit jackets. Huy's mom had the fluidity of being a business owner so we think she had the most fun with dressing up from more uniform-type sets for daytime, to cocktail ensembles during the evening. She was an incredible singer at her own restaurant so this style much suited her glamorous personality.

In your memory, is there an outfit that each of your mothers wore that stands out as the most memorable or iconic? How does this look inspire your work?

Huy – It would be very difficult to separate from our collective memories one most memorable outfit for each of them. We've shared and conversed about many of their looks in the past and each would inform our work at a different point in time. For example, Dylan's mother's work suit worn over a swimsuit (worn on her many corporate beach trips) was the starting point for our Spring Summer 2020 collection; whereas my mother's white sequinned dress (that she used to wear to perform on the stage at her own restaurant) was the pivot for our Autumn Winter 2020. Dylan's and Jin's mothers worked in more corporate environments so there was a considerable amount of tailored pieces like suit jackets, trousers and pencil skirts; while my mother's wardrobe, that of a restaurant owner and performer, would add a more fluid and cheeky flair.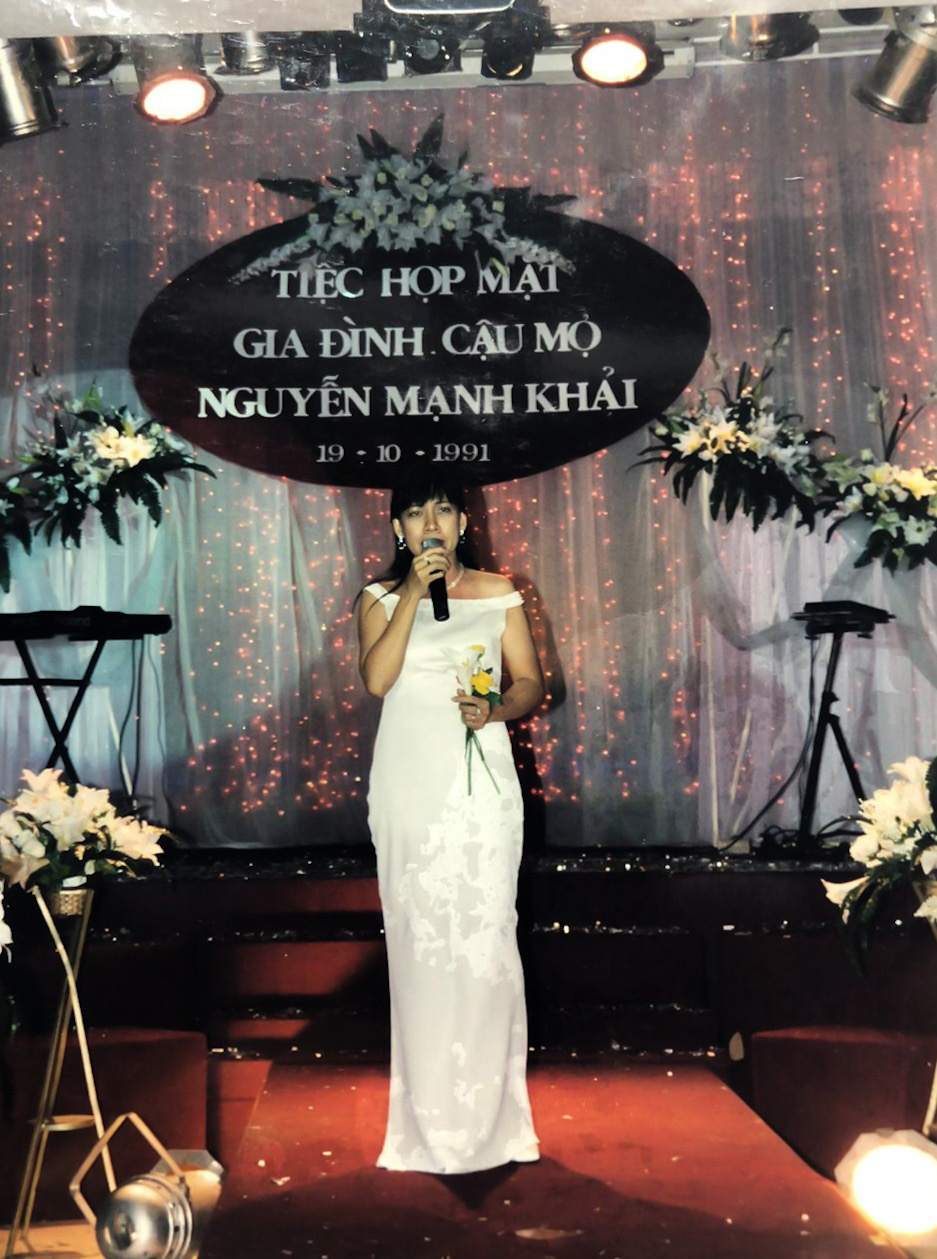 Can you tell me about the Commission woman? What defines her, and how does she evolve with the world?

Dylan – We really love how you put it in your introduction. "She's immaculate but also prone to cheekiness" – we always say that the Commission woman is sharp and put-together, as our mothers did and still do, yet also embraces humour, and is not afraid to not be so precious at all times. I think there's a certain tension to how she carries herself. It's this type of push-pull that we enjoy and aim make present in our work. Take our floral prints, for example. They often derive from the tablecloths or gift-wrapping papers you would see in a typical household where we grew up. While our childhood version would have been printed on a PCU material, sandwiched between clear vinyls for easy-cleaning purposes, it's now seen on a silk jacquard ground for both our tops and bottoms. The material may be more modern and expensive, but the fond irony will always be there.


Although both hailing from Asia, Vietnam and Korea are quite different cultures. What commonalities have you found, and how might you juxtapose the two?

Dylan – we tend to focus more on our commonalities in our processes. We bond over the little things like the fact that we all grew up wearing uniforms and the big things like our modest but ultra-Asian upbringing where we always have to be the best at what we do.

Jin – if there's one difference that I think we all recognise and infuse into our work, it's that the heavy emphasis on hierarchy in my Korean language makes me very formal at times, whereas Dylan and Huy are more relaxed and direct. This has helped us find a balance in our communication style as individuals, and as a brand overall.

That's so interesting. It's remarkable how the difference in language tone shapes the brand…It's fascinating that a brand so authentically inspired by its Asian roots, and which underscores a niche moment in 80's-90's Asian culture so specifically, is finding itself resonating with so many. This includes your recognition as a shortlist for the LVMH prize (congratulations, by the way!). What, in your opinion, allows Commission to feel so universal?

Huy – Thank you. It's something we definitely feel very proud of, and find reassuring. So many of our audience, friends, colleagues, and even people who've come to know about Commission for the first time, have shared that, despite their backgrounds, they all see bits and pieces of their mothers or even parents in the different aspects of what we do. I really believe in the universality of the dress code that we are re-interpreting with Commission. It was a point in time where Asia, slowly a whole, was opening up its door to the West both economically and culturally. It's become more and more apparent that fashion in this era was very much each and everyone's interpretation of the same influences.



I love how you've stated that "brand is a platform not just to sell clothes, but to build a community". In particular, with your secondary platform, Commission Femmes, spotlighting Asian women. Can you tell me more about this project?

Dylan – this project was purely a space to celebrate all the women we've come across – as friends, colleagues, collaborators, artists and models. We thought it was necessary to use our voice and influence as a brand, with a consistent visual and branding approach to championing the beauty of not only Asian women but women of colour. It's been a valuable and emotional process for the three of us because a lot of these women have never been seen or even witnessed themselves in this type of spotlight, which was also another focus of Commission Femmes, which is to include as many real women (non-model) as possible. They have expressed their pride along with surprise and gratitude. We are just as equally grateful for their participation and the trust they have to sit in front of our lens.



Finally, it would be completely remiss to have a conversation today without acknowledging where the world is right now. Can you tell me about the brand's new reality in light of Covid-19's influence on the world?

Jin- It's been challenging. We've adapted to having meetings over our computer screens and making collective decisions via texts and FaceTime. Many vendors and manufactures are still closed due to the current lock-down so we are focusing on the more logistical tasks right now, in hopes of starting our AW20 production soon whilst gradually easing into SS21 development. I must say as destructive as the pandemic has been, it has been a good opportunity for us to reconsider many of our strategies. It also created a huge push to actualise the changes that have been in our pipeline. We want take a more focused approach with the next collection, honing in on our strengths and core products. It's part of our learning to tell our stories better, be more concise and effective.
---
---
---
---